At least 26 people were killed in Sunday's church shooting in Sutherland Springs, Texas, Gov. Greg Abbott said at a press conference.
About 20 others were wounded, said Freeman Martin, a regional director with the Texas Department of Public Safety, with victims ranging in age from 5 to 72 years old.
Among the dead is the 14-year-old daughter of the First Baptist Church's pastor, Frank Pomeroy, according to his wife, Sherri Pomeroy, the girl's mother. The couple were traveling out of state when the shooting occurred.
Authorities have not said what may have motivated the suspected shooter, who was later found dead in his vehicle.
The shooting has devastated the small Texas town east of San Antonio, described as a place where "everybody knows everybody."
Here are the latest developments:
The suspected shooter has been identified as 26-year-old Devin Patrick Kelley, according to two law enforcement sources who have been briefed on the investigation.
In April 2016, Kelley purchased the Ruger AR-556 rifle he used in the shooting from an Academy Sports & Outdoors store in San Antonio, Texas, a law enforcement official said. He indicated he didn't have a disqualifying criminal history when he filled out the background check paperwork at the store, the official said. Kelley listed a Colorado Springs, Colorado, address when he bought the gun.
Kelley was a member of the US Air Force and served at Holloman Air Force Base in New Mexico from 2010 until his discharge, according to Air Force spokeswoman Ann Stefanek.
Kelley was court-martialed in 2012 for assault on his spouse and assault on their child, according to Stefanek. Kelley served a year in prison and received a bad conduct discharge in 2014, the spokeswoman said. His rank was also reduced, she said.
Speaking from Japan, President Donald Trump condemned the shooting as an "act of evil" and called it "horrific."
"We don't know names of any of the victims at this time," said Wilson County Sheriff Joe Tackitt in a press conference Sunday evening. As victims are identified, next of kin will be notified, he said.
Without naming Kelley, Martin described the shooter in Sunday's press conference as a young white male who was dressed in all-black "tactical-type gear" and wearing a ballistic vest.
Martin said the suspect was seen in a Valero gas station across the street from the church in Sutherland Springs at about 11:20 a.m. local time on Sunday morning.
The suspect left the gas station, crossed the street, exited his vehicle and began firing before he entered the church, Martin said.
As the suspected shooter left the church, a local resident used their own rifle to engage him, Martin said. The shooter then fled the church, while the citizen pursued him.
After a brief chase, law enforcement later found the suspect dead of a gunshot wound inside his vehicle. A law enforcement official briefed on the investigation said multiple weapons were found in Kelley's car. Authorities said they don't know if the wound was self-inflicted or the result of the resident who fired on the suspect, Martin said.
The shooter was killed after a brief chase north into neighboring Guadalupe County, Guadalupe County Sheriff's Office spokesman Robert Murphy said earlier on Sunday.
Sutherland Springs is in Wilson County, about 30 miles east of San Antonio.
"My heart is broken," Wilson County Commissioner Albert Gamez Jr. "We never think where it can happen, and it does happen. It doesn't matter where you're at. In a small community, real quiet and everything, and look at this."
Dana Fletcher, who owns a business down the road from the church, Fredricka Whitfield that Sutherland Springs is a "very small" but "very tight-knit community."
"There's two gas stations, the church, a community center, post office, a Dollar General, a tire shop," she said. "That's about it."
The FBI was on the scene of the shooting, according to Michelle Lee, spokeswoman for the FBI's San Antonio field office. Agents from the San Antonio field office of the Bureau of Alcohol, Tobacco, Firearms and Explosives also headed to the scene, a law enforcement source said.
After the shooting, about 100 family members of victims gathered in a community center next to the church, waiting for news of their loved ones, 26-year-old David Flores. Local law enforcement, the FBI and the Red Cross were also at the community center.
"My dad saw the gunman run into the church building and then he heard shots and saw people running," Flores. "People covered in blood and screaming. It was pandemonium everywhere."
"Looking around, it's very sorrowful and the pastors from all the local churches right now are just trying to console everybody," said Flores when asked to describe the scene inside the community center.
"There were several children injured," he said. "I know three, personally, who are in critical condition."
The Connally Memorial Medical Center in nearby Floresville, Texas, received 8 patients with gunshot wounds from the Sutherland Springs church shooting, a statement from the hospital said. Four of those patients were transferred to University Hospital in San Antonio to receive a higher level of care.
One of those patients was in critical condition and needed to be air-lifted.
Three patients were treated at Connally Memorial Medical Center and have been released, the statement said. One patient is in stable condition there.
According to the church's website, congregants meet around 9:15 a.m. on Sundays for breakfast before Sunday school and the morning church service at 11 a.m. The sanctuary where the shooting occurred is small, with wooden pews and red carpeting.
Last Sunday, a small praise team led the congregation in a rendition of "Happiness is the Lord," according to a video of the service posted on the church's Facebook page.
Later in the service, Pastor Pomeroy read scripture from Proverbs: "Trust in the Lord with all your heart and lean not on your own understanding."
"Lean on the Lord ... leaning into God is the way we should go," he said, "because God's got it figured out whether we do or not."
Photos on the church's page show happy moments in the lives of parishioners: children playing in an inflatable castle and adults and children dressed in costumes during last week's Fall Festival, held on Halloween.
Mourners gathered at a vigil Sunday night at the Sutherland Springs post office.
"We have never had this happen before," said Debra Morales, a volunteer coordinating relief efforts for victims' family members. "It's all just very upsetting."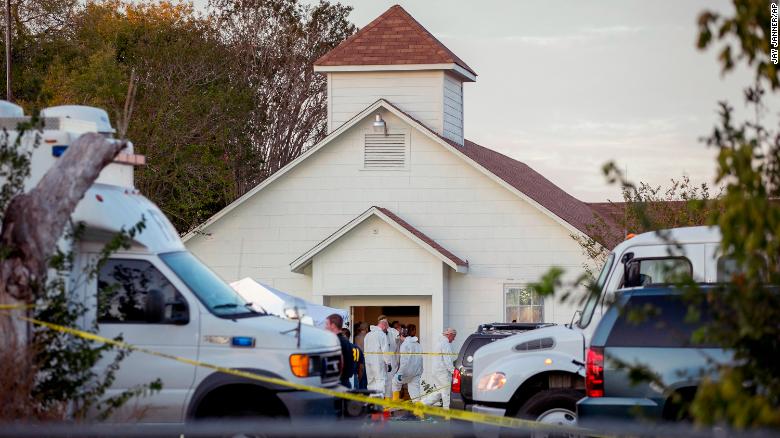 "May God be w/ the people of Sutherland Springs, Texas," tweeted President Donald Trump, who is in Japan on his first trip to Asia as president.
May God be we the people of Sutherland Springs, Texas. The FBI & law enforcement are on the scene. I am monitoring the situation from Japan.
Trump was briefed on the shooting, according to White House Press Secretary Sarah Sanders, and has spoken with Abbott, the Texas governor.
"In tragic times Americans always pull together," Trump said during a news conference in Japan. "We are always strongest when we are unified."
US Senator John Cornyn of Texas called the news "truly heartbreaking" in a tweet Sunday. "Please say a prayer for First Baptist congregation, first responders & the community there," he said.
"While the details of this horrific act are still under investigation, Cecilia and I want to send our sincerest thoughts and prayers to all those who have been affected by this evil act," said Gov. Abbott in a statement Sunday. "I want to thank law enforcement for their response and ask that all Texans pray for the Sutherland Springs community during this time of mourning and loss."
Abbott said later on his Twitter page that he was on his way to meet with officials and the families of victims.